The six police officers who face charges in relation to the death Freddie Gray have been declared innocent by the Baltimore Police Union in an open letter to the Maryland State's Attorney's office. Suggesting a conflict of interest and adding a thinly veiled threat to the political career of Marilyn Mosby's husband, the letter shows just how far cops will go to protect their own.
The letter, penned by Fraternal Order of Police President Gene Ryan, explains just how distraught the poor officers are over the loss of Freddy's life:
Each of the officers involved is sincerely saddened by Mr. Gray's passing. They are all committed police officers who have dedicated their careers to the Baltimore City Police Department. And that has been lost in all of the publicity. All death is tragic. And death associated with interaction with police is both shocking and frightening to the public. Not one of the officers involved in this tragic situation left home in the morning with the anticipation that someone with whom they interacted would not go home that night. Not one of the officers involved are responsible for the death of Mr. Gray. To the contrary, at all times, each of the officers diligently balanced their obligations to protect Mr. Gray and discharge their duties to protect the public.
That's a couple too many "not ones."  Not one of the officers did a thing to help Freddy Gray. Not one of the officers told the truth about how many stops the van made. Not one of the officers performed anywhere near the scope of their job description, and not one of the officers is going to get away with it.
Ryan contends that a "special independent investigator" should be appointed, giving several options of bullhonkey to choose from. There's the relationship Attorney Mosby allegedly has with the Gray family's attorney and the local media.
Knowing that attorneys tend to run in circles with other attorneys and State's Attorneys tend to have lots of dealings with the media, Ryan also offered up Mosby's husband as a sacrificial recusal lamb because he serves on the Baltimore City Council.
The Full Open Letter To State's Attorney Marilyn Mosby: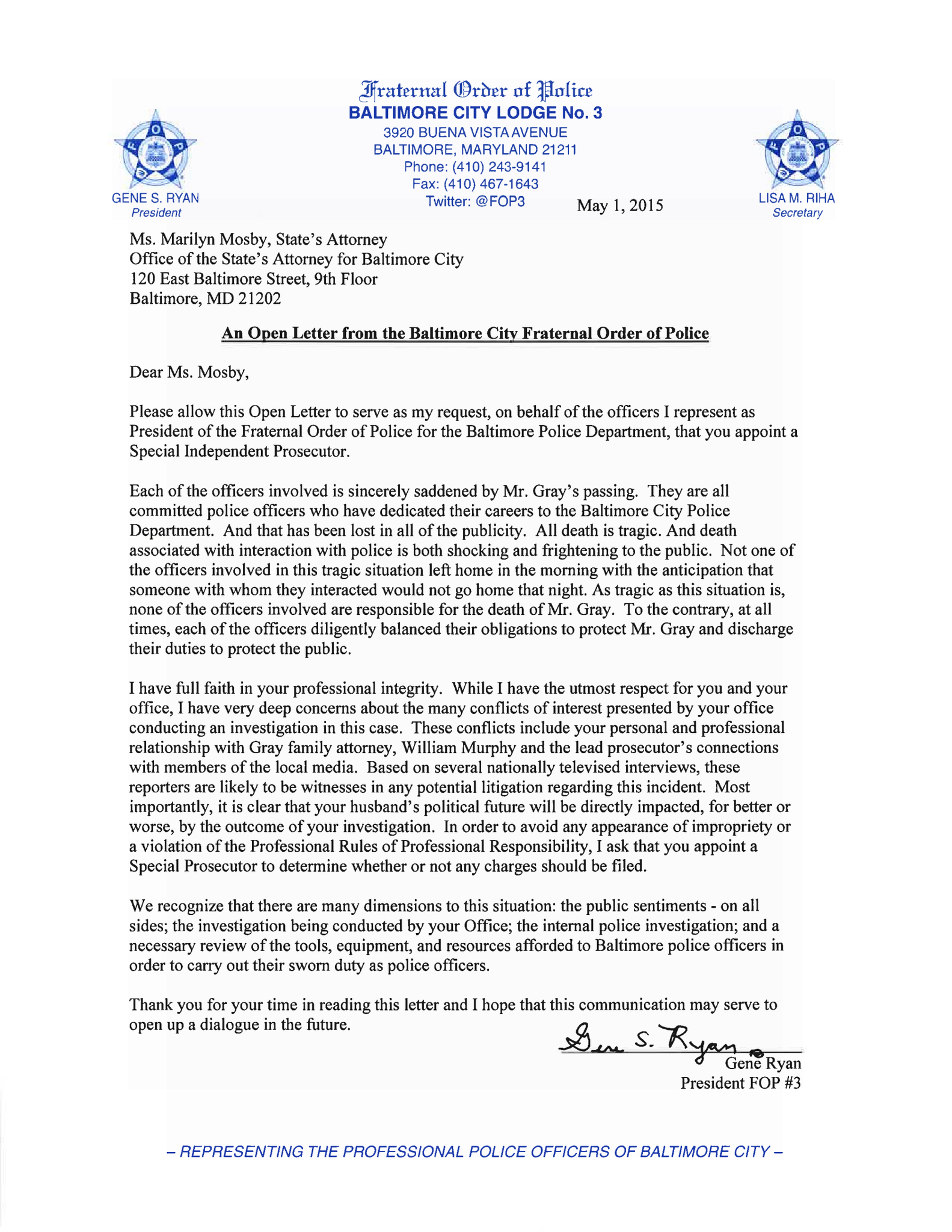 After receiving the letter and refusing to recuse herself, Mosby told reporters:
I don't see an appearance of conflict of interest. My husband is a public servant. He works on the legislative; I am a prosecutor, I am also a public servant. I uphold the law; he makes the laws. And I will prosecute any case within my jurisdiction.
It appears State's Attorney Mosby isn't going to cave to political pressure or refuse to do her job properly just because the people she's prosecuting have badges and guns.
It's about time someone took a stand.
---
Image: Twitter