Well it's official – Alabama Republicans have chosen one of the country's most controversial people as their Senate candidate in a special election to replace Attorney General Jeff Sessions.  In a strange turn – President Trump chose to publicly back interim Senator Luther Strange over disgraced former Alabama Supreme Court Justice Roy Moore.  Trump's candidate lost while the heavily favored, Stephen Bannon backed Moore pulled it out tonight.
And here are the craziest things Roy Moore has said to give you some idea of who could be the next Republican Senator.
#1: In 2009 – he went full on birther regarding President Obama's birth place.  He said, "Now, I haven't seen one thing in the press about this, and yet the President of the United States will not produce his birth certificate.  That's very strange indeed. Why we don't hear about it — because the press won't report it."
#2: "Homosexual conduct should be illegal," he said.  After making that comment – he likened homosexuality with bestiality.  He said, "Do you know that bestiality, the relationship between man and beast is prohibited in every state?"
#3: He thinks God has forsaken the American people because they have lost touch with God.
"We have child abuse, we have sodomy, we have murder, we have rape, we have all kind of immoral things happening because we have forgotten God."
#4: A year ago he said, "We have blacks and whites fighting, reds and yellows fighting, Democrats and Republicans fighting, men and women fighting. What's going to unite us? What's going to bring us back together? A president? A Congress? No. It's going to be God."
Reds aka Native Americans and Yellows aka Asian Americans.
#5: In 2002 – as a state Supreme Court Justice – he ruled that an allegedly abusive husband should have custody of his child because the mother was a lesbian.  "Homosexual behavior is crime against nature, an inherent evil, and an act so heinous that it defies one's ability to describe it" and being a homosexual "would render him or her an unfit parent."
#6: He regularly railed against Sharia law despite himself being a proponent of Christian Sharia law: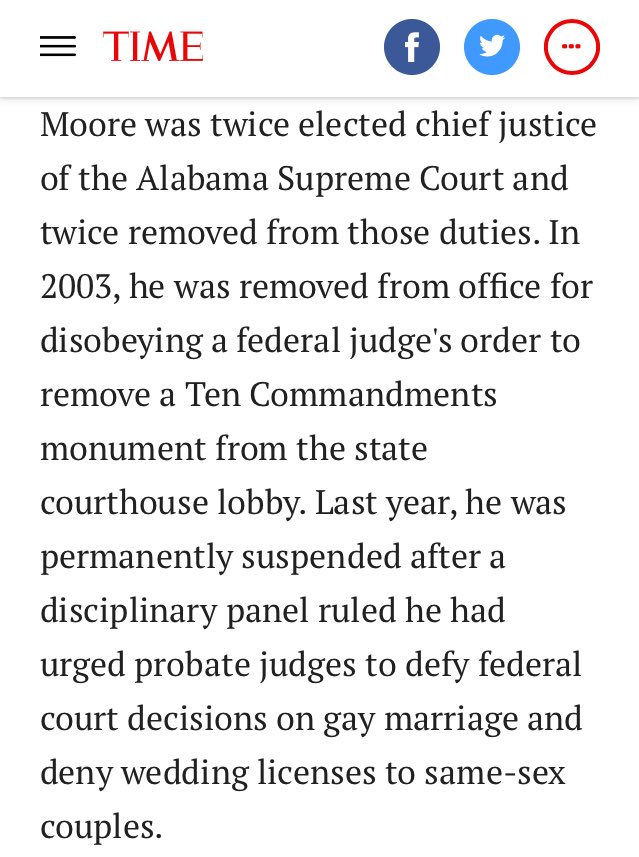 #7: Mother Jones spells out his ridiculous positions here:
Moore wouldn't be the most radical figure ever to serve in the Senate, but as a theocrat he has few peers. As a judge he ruled that being gay was grounds for losing your kids in custody cases, while calling homosexuality "abominable, detestable, unmentionable, and too disgusting and well known to require other definition or further details or description." CNN's Andrew Kaczynski dug up audio of Moore arguing that 9/11 was divine punishment for America's embrace of sodomy and abortion. A man of his word, in 2005 Moore said homosexuality should be illegal. And lest anyone think he has experienced some personal evolution, he warned at his one-on-one debate with Strange last week that America is afflicted with "crime, corruption, immorality, abortion, sodomy, sexual perversion," and the threat of "transgender troops in our bathrooms." (He's also written that Muslims should not be allowed to serve in Congress.)
#8 – Vox had this weird exchange with Moore where he said Sharia law was happening in the US right now:
Jeff Stein

Some right-wing conservatives think Sharia law is a danger to America — do you?

Roy Moore

There are communities under Sharia law right now in our country. Up in Illinois. Christian communities; I don't know if they may be Muslim communities.

But Sharia law is a little different from American law. It is founded on religious concepts.

Jeff Stein

Which American communities are under Sharia law? When did they fall under Sharia law?

Roy Moore

Well, there's Sharia law, as I understand it, in Illinois, Indiana — up there. I don't know.

Jeff Stein

That seems like an amazing claim for a Senate candidate to make.

Roy Moore

Well, let me just put it this way — if they are, they are; if they're not, they're not.
Or you could just elect Doug Jones to the U.S. Senate Alabama; you're move.